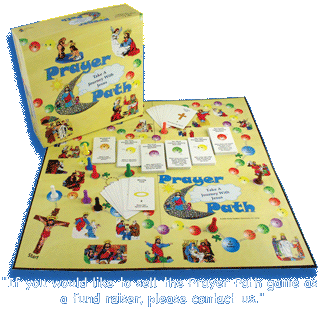 Prayer Path Board Game
This game can be played with up to 10 players, or team up for more fun. Although reading is required, don't leave out the little ones they enjoy being read to, they also love matching the colors and numbers. This game will teach young and old alike about 20 different events in the life of Jesus and Mary. They will also learn the 7 different prayers said throughout the rosary. For those of you that need more of a challenge, we have included the scripture book and verse on the back of each card. The advanced player would have to not only answer the question but would have to know the Bible book and verse where the answer comes from. Easy to learn! Fun to play! Take the Journey today!
Family and Classroom oriented!
Religious, Educational, Fun!!!
Helps Children to Learn Their Prayers
Prayer path is a game based on the rosary, it was created with the intention of teaching people of all ages how to pray the rosary using the 4 sets of mysteries, Joyful, Sorrowful, Glorious, and Luminous.